Hi there, .
Hey – don't worry… even the best chefs had to start somewhere. Sure, you might not be a pro cook yet – but you've got the most important things… desire, and a willingness to learn.
Here's our tips for the best books and equipment that will have you preparing amazing pasta in no time!
Jamie's Ministry of Food: Anyone Can Learn to Cook in 24 Hours
There's no one better than Jamie at making complicated dishes sound easy. He's got an infectious style, and his enthusiasm just carries you along so that you'll be fired up to start cooking your own culinary masterpieces!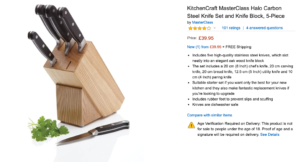 Master Class Halo 5-Piece Carbon Steel Knife Set and Knife Block
Once you're properly inspired, and ready to dive in – you need the proper equipment!
Any chef worth their salt knows that cooking always starts with a good knife set. No need to buy your own $250 set of slicing and dicing masterpieces. We recommend these knives from Master Class.
These aren't high end – but they're good value as you grow your skills.